Woven Wrap Blends & Woven Wrap Lengths
POSTED BY BETH | 21.06.18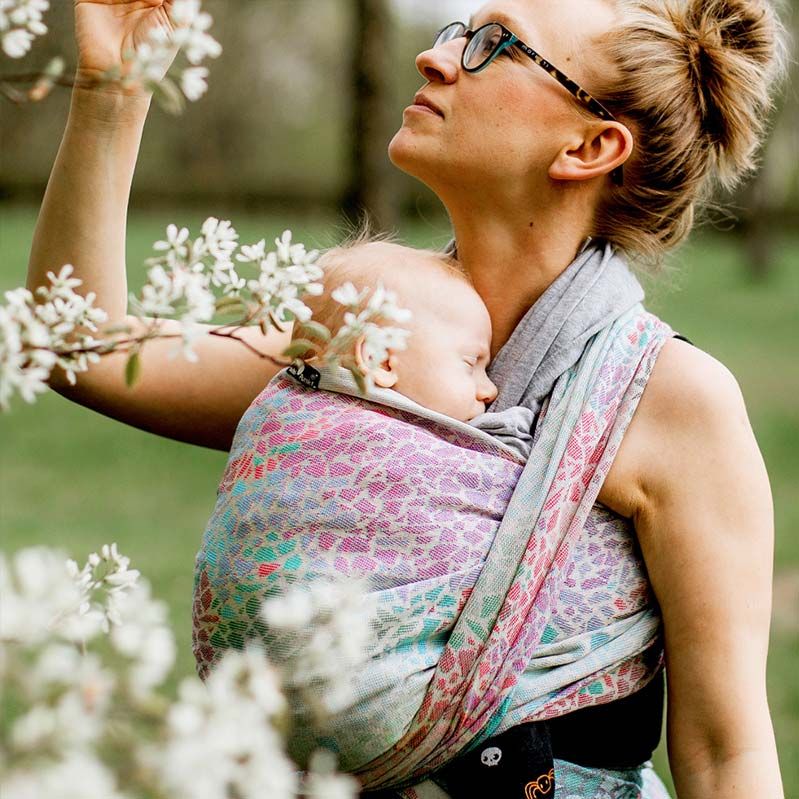 Woven wraps are similar to stretchy wraps in that they comprise one long piece of fabric with no buckles, fasteners or rings. Woven wraps can be tied in different ways for different carries. They differ from stretchy wraps in that woven wrap fabric is far more supportive. It has a slight diagonal stretch, making it firmer - supportive enough to hold a heavy toddler.
A woven wrap sling can work for all sizes and ages, from one-week old until your child grows out of being carried. You can adjust the sling to carry your baby in different ways as they grow and develop. Once you wrap it around, the sling holds your baby safely and securely in a way that promotes their development, is respectful to baby's physiology and is healthy for their hips.
What Is A Woven Wrap?
A woven wrap comprises one long piece of fabric which can be used to carry your baby on your front, back, or hip. If you've loved using a stretchy wrap for your baby, then a woven wrap will allow you to continue wrapping with a larger, heavier baby, toddler and child.
Woven wraps are a beautiful way to carry your little one. There is a sort of ritual to wrapping; the cloth, the movements, the finish. It can seem daunting - the long length of fabric, without structure, and yes, there is a learning curve with it, for sure. However, the lack of structure is exactly what makes a woven wrap so versatile. It can be used with even the smallest babies all the way to preschoolers. The very same wrap. Which also means a woven wrap can be the most economical, cost-effective sling to use.
Why Do Woven Wraps Come In Different Lengths?
Woven wraps are available in several lengths, most commonly in sizes 2-7 (shortest to longest). The length you choose depends on the carries you'd like to do (singe layer / multi layer), and your dress/shirt size. If you'd like a wrap to last from newborn to toddler +, with the most versatility, opt for either a size 5 (4.2m), size 6 (4.6m) or a size 7 (5.2m) (also known as your base size) - use the size guide here to work out which of these is your base size. 
There is a learning curve with wraps, however all come with detailed instructions, and we are always super-happy to advise and provide guidance on which wrap is best for you.
Why Do Woven Wraps Come In Different Blends?
Woven wraps are most often found in 100% cotton options. Cotton is easy to care for, easy to wash and dry and suits baby's of all ages.
Woven wraps can also be found in several different blends or combinations of fibres. There are also lots of different wrap blends: 100% Cotton; Cotton / Silk; Cotton / Wool; Cotton / Hemp; Cotton / Linen; Cotton / Alpaca; Cotton / Cashmere; Cotton / Bamboo.
What Are The Different Types Of Woven Wraps
The most popular and easiest to care for option are woven wraps made from 100% cotton, and there are several different weaves to choose from:
cross-weave;
diamond weave;
herringbone, and
jacquard.
Cross weave - this is used extensively, producing beautiful stripes and uni-colour wraps. They can have a firmer feeling initially, but soften to produce wraps that work well with newborns and toddlers alike.
Diamond weave - this produces a diamond shape within the weave, and lends itself to rainbow tones as it creates a shimmery-ness and is usually softer in-hand straight away than the cross-weave.
Herringbone weave - this produces a distinctive 'V' shape in the fabric. Works well in rainbow tones and stripes to produce a dual effect of colour and pattern, but also works beautifully with two colours, producing a soft-flowing pattern which is quite striking. Usually quite soft in-hand immediately.
Jacquard weave - this process produces some of the most intricate, delicate and bold designs that you'll find. This process enables the weaver to produce intricate designs whereby the pattern is woven into the fabric producing detailed images or patterns. Jacquard wraps can be a little firmer in hand to begin with, but when wrapped with, produce the most stunning effects - for example, flipped shoulders, or seeing both the top side and reverse in one carry.
I hope you've enjoyed our little foray into the different types, sizes, and blends of woven wraps available. As always, if you have any questions feel free to get in touch any time!
Happy baby carrying!