It's the 4th trimester - your baby is new to the world, and your baby needs to be carried. There are many wonderful baby carriers for newborns including ring slings, stretchy wraps, and woven wraps.
Stretchy Wraps
A stretchy wrap can be tied at the start of the day and left on, with no need to readjust. This can be very reassuring in the early days, particularly as you're adjusting to being a new parent. You know where the sling is, at all times, and it's for baby and you.
Stretchy wraps all perform the same function, yet they're not all the same. To help you decide on an stretchy wrap, we'll take a look at each.
JPMBB Basic
The Je Porte Mon Bebe JPMBB Basic wrap is a wonderful stretchy wrap with 2-way stretch (it stretches up/down and left/right), for ease of tying. Weight-wise, it's not super-heavy (you won't feel like you're being mummified) and it's not super-light (you're not going to poke your finger through the fabric as you tighten). It has a french-terry knit on the reverse so that both sides feel different (you can tell by feel which side should be facing out). At £36.95, they are superb value too. All in all, a wonderful option for baby and wearer.
Hana Baby Wrap
The Hana Baby Wrap is another wonderful stretchy wrap with 2-way stretch. Weight-wise it's lightweight and fine, with a really good amount of stretch. You can tie it really snug, and pop baby in and out whenever you need, without having to re-tie or readjust. It's made with an organic cotton/bamboo blend, so it's gentle against baby's skin, and great in warmer weather too. There is a choice from standard length and short length.
Didymos Jersey Wrap
The Didymos Jersey Wrap is a wonderful place to start your baby carrying journey. It's not a super-stretchy stretchy wrap, the jersey fabric wraps softly, like a stretchy, but almost with the support of a woven wrap. It sits somewhere in-between the two - stretchy wrap and woven wrap - the best of both worlds. Made with GOTS certified organic cotton, perfect next to baby's skin.
Ergobaby Aura Wrap
The Ergobaby Aura Wrap is lightweight and breathable, and super-supportive for baby. It's 100% viscose, made from eucalyptus and acacia. It doesn't have the 2-way stretch of other options, which gives slightly less give and bounce, which some parents prefer.
Ring Slings
Carrying in arms and in a sling is essential to the normal physical, psychological and neurological development of your baby. It's the foundation on which their whole lives are built. Every time you hold your baby close, the hormone oxytocin is released. Oxytocin (sometimes called the love hormone) is the hormone that underlies trust - it gives us that happy, warm feeling. So when we carry our babies close, oxytocin is released - it's a feel good thing.
Babies are meant to be carried. They need to be close to you, to be held. Babies feel more content and calmer next to you - you make them feel secure and safe. You are their world.
A ring sling is a wonderful option for the fourth trimester, newborn days and beyond. A single layer carry, without any fuss, they are light, easy to care for and can be used way beyond the fourth trimester; indeed well into toddlerhood.
A ring sling comprises a long piece of woven wrap fabric with 2 aluminium rings sewn into one end. The length usually ranges from 1.7m to 2m. The tail (end of the woven wrap) is usually asymmetric. They are absolutely fantastic, and we love them!
Really good ring slings are usually made from woven wrap fabric, sewn through two aluminium rings. As such they:
have slight diagonal stretch, making the fabric firm to use - supportive enough to hold even a heavy toddler;
are most often found in 100% cotton options (cotton is easy to care for, easy to wash and dry and suits babies of all ages);
can be found in a variety of colours, designs, lengths, and weaves.
Woven Wraps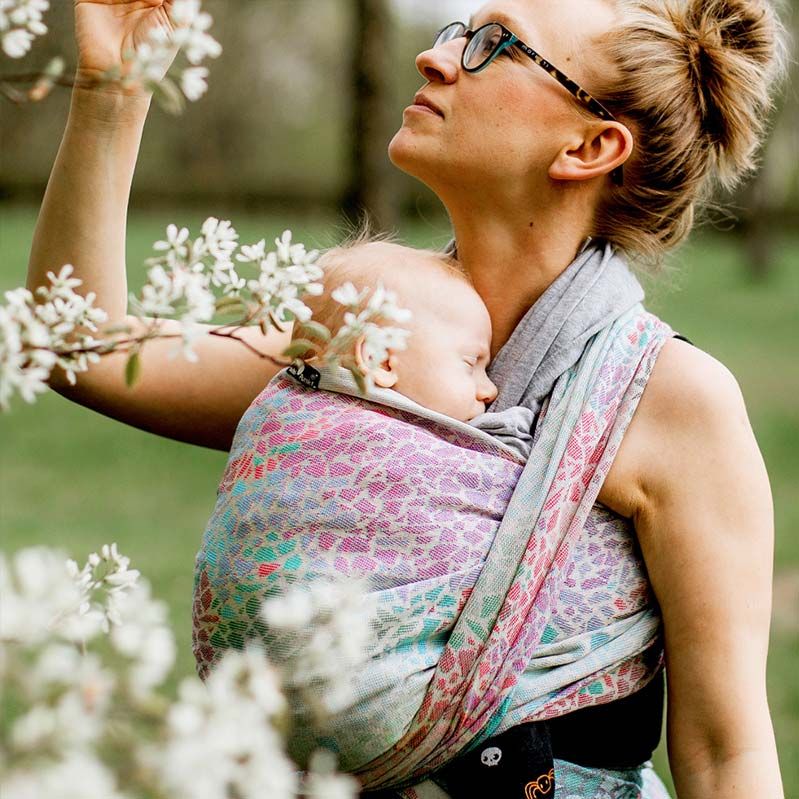 Woven wraps are similar to stretchy wraps in that they comprise one long piece of fabric with no buckles, fasteners or rings. Woven wraps can be tied in different ways for different carries. They differ from stretchy wraps in that woven wrap fabric is far more supportive. It has a slight diagonal stretch, making it firmer - supportive enough to hold a heavy toddler.
A woven wrap sling can work for all sizes and ages, from one-week old until your child grows out of being carried. You can adjust the sling to carry your baby in different ways as they grow and develop. Once you wrap it around, the sling holds your baby safely and securely in a way that promotes their development, is respectful to baby's physiology and is healthy for their hips. Woven wraps can be tied for front, back and hip carries. If you've loved using a stretchy wrap for your baby, then a woven wrap will allow you to continue wrapping with a larger, heavier baby, toddler and child.
Woven baby wraps are a beautiful way to carry your little one. There is a sort of ritual to wrapping; the cloth, the movements, the finish. It can seem daunting - the long length of fabric, without structure, and yes, there is a learning curve with it, for sure. However, the lack of structure is exactly what makes a woven wrap so versatile. It can be used with even the smallest babies all the way to preschoolers. The very same wrap. Which also means a woven wrap can be the most economical, cost-effective sling to use.