Babywearing in Summer - 8 Top Tips For Staying Safe & Cool
by Beth Beaney, Executive Babywearing Consultant at LTBN

Summer is a great time to get out and about with your baby in a sling. There's so much to see and do, explore and experience, and so many places you can go that would ordinarily be difficult to access if you had a buggy. There are so many fun and lightweight baby carriers that are perfect for warm weather. Here are some of our favourites along with top tips for staying as cool as a cucumber whilst babywearing this summer!
So the weather is getting warmer and summer weather is here (fingers crossed, right?!). In the heat, it's hard not to 'glow' (my French teacher once chastised me for using the term sweat - she would always say 'pigs sweat, men perspire & woman glow').
Glowing or not, I freely admit to being a complete and utter sweaty bundle when it's warm - and when carrying babies in slings, you get to carry another little sweaty bundle too!
Babies can become fractious in the heat (as can you!) - watch for these cues, take a break and cool down.
But there are a few things you can do to stay as comfortable as possible when babywearing in summer, which I have summarised in the handy infographic below. There are also some carriers that are more suited to carrying in hot weather, and I'll talk about those below, too.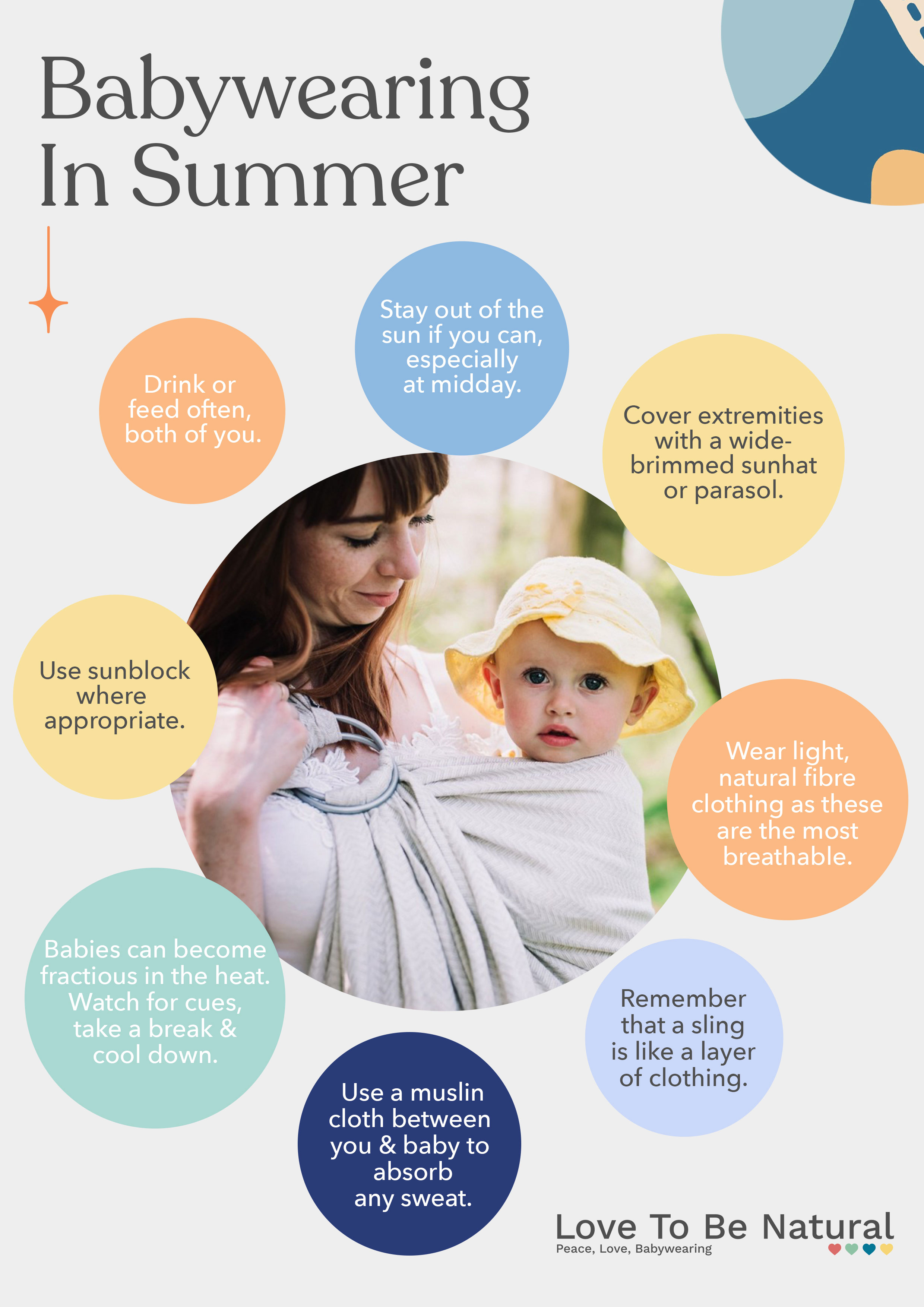 8 Top Tips For Staying Safe & Cool Babywearing in Summer
Drink or feed often, both of you.
Stay out of the sun if you can, especially at midday.
Cover extremities with a wide-brimmed hat or parasol.
Wear light, neutral coloured clothing made from natural fibres as these are the most breathable.
Remember that a sling is like a layer of clothing, so adjust what you're wearing accordingly, but make sure you're still covered up.
Use a muslin cloth between you and baby to soak up any excess sweat.
Babies can become fractious in the heat (as can you!) - watch for these cues, take a break and cool down.
Use sunblock where appropriate.
Remember that a sling is like a layer of clothing, so adjust what you're wearing accordingly, but make sure you're still covered up.
The Best Baby Carriers & Slings For Summer
Our babywearing experts have hand-picked the best baby carriers for summer to help you choose a summer infant baby carrier.
1. Love Radius Physiocarrier
Did you know that we were the original are now the UK & Ireland's largest stockist of baby carriers and wraps from Love Radius?
The  Love Radius Physiocarrier was the original mesh baby carrier that has a roll-away panel that can be used to help keep you both cool on warm days; awesome!
We all know that a too-hot baby can be a grumpy baby (although I'm pretty sure this applies to parents too!), so both of you being cool-as-a-cucumber is best.
Here's what we absolutely love about the Physiocarrier
4 Seasons Thermo-Fit,
Ergonomic, physiological position (hip healthy),
Vented padding on waist & shoulders straps,
Rear mirror for back carrying.
The roll-away panel is fantastic! Roll it up to reveal the mesh panel when you need it when it's warm, roll it back down when you're cool. This makes it a great all-year-round carrier, so whether you're having fun in the sun, or doing chores indoors, just unzip the panel, and you'll both be cooler in no time!
2. Love & Carry AIR X
The Love & Carry AIR X is a fantastic carrier - best for babies 4 months to 3 years, and super for all-year-round babywearing.
It comes with extra lumbar-support, and is fully adjustable to grow with your little one from 4 months to 3 years thanks to the width-adjustable body panel.
The AIR X has an integrated neck support, sleephood and a large, detachable zip pouch (handy for putting your phone, keys, wallet, spare nappy and wipes in etc).
And the stand-out feature is, of course, the roll-away mesh panel to help keep you cool in warmer weather!
Made from 100% cotton and available in a great range of colours and designs, it is a premium, high quality baby carrier that will last and last and allow you to carry your baby in that all-important close-enough-to-kiss ergonomic position. The AIR X offers superb value with zero compromise on quality or comfort!
3. Integra Solar
The Integra Solar Baby Carrier recently won 'Best For Travel' in The Independent Reviews awards.
The Solar range from Integra is the ideal hot weather baby carrier, but it's also versatile in all seasons - it dries quickly if it gets wet.
It's made from a sun-protective fabric which blocks 95-99% of the sun's harmful UVA and UVB rays, so it's super-safe for using on really sunny days.
Constructed fully in solar fabric with polyester padding in the shoulder straps, the fabric is very strong and has an ultra-soft, cotton-like feel. Not only is the fabric great, it's ergonomic, supportive and comfortable to wear with a softly shaped body and wide base.
It has an un-padded waist, so it fits snuggly to your waist or hips - super comfy for you. The shoulder straps have just enough padding to make them comfy, even when wearing a heavier baby, but are light enough to keep you cool on warm days and that dry quickly.
So overall it's lightweight, sun-protective and quick-drying - it's a summer sensation!
4. Ergobaby Omni Breeze
The Shop Ergobaby Omni Breeze is the ultimate breathable baby carrier - it has been rated #1 in airflow tests when tested with comparable carriers.
So if you're looking for a superb baby carrier, every part of which is completely breathable, then this is definitely the carrier for you!
In terms of specifics, the Ergobaby Omni Breeze is suitable from newborn to 2 years (around 7 - 33 lbs / 3.2 - 20.4 kg). There is no need for any inserts, thanks to the adjustable width and height of the seat area. It narrows across the width and height for younger babies and adjusts with them as they grow. So you know this is a high quality carrier that will last and last and will adapt to your growing baby.
The Omni can also be used in the world-facing (forward facing) position. This carrier is definitely expert recommended: if you want a carrier to use from birth, with the option of world-facing positioning, that is completely breathable, then the Ergobaby Omni is a superb option.
The unique diamond shape mesh fabric covers most of the carrier, and there are foam cut outs in the waistbelt and lumbar support to maximise breathability, so this is as cool as it gets when babywearing!
5. Tula Explore Baby Carrier Coast
The Tula Explore baby carrier brings together the newborn-suitable features of the Tula Free To Grow Carrier, and the world-facing features that many parents desire, in a single, fantastic carrier.
The seat area narrows across the width and height for younger babies and adjusts with them as they grow. The Explore can also be used in the world-facing position.
The Tula Explore comes in a huge variety of prints and designs to suit everyone.
The Best Ring Sling For Babywearing in Summer
A ring sling is a wonderful option for babywearing in warmer weather. It's actually the lightest weight, least bulky sling you can get, and as such is an ultra-breathable option as most ring slings are made from pure cotton.
Ring slings are suitable from newborn (even early baby) and can be used well into toddlerhood.
A single layer carry, there's less fuss, less fabric, less effort to get baby in the sling and secure. It's a lighter sling for you and for baby, and from a sensory perspective, it makes coping with the heat a little easier for both of you. As they are lighter, they tend to dry very quickly, so are ideal for washing and drying quickly. Plus as they are light and small, they are really easy to take with you so you have it on-hand whenever you need it.
There's lots of information on the website on choosing a ring sling, using a ring sling and laundering them. Check out our other blog posts on ring slings, carrying information, style guide and buying guide. If you have a specific question, chat to us by email or hit the orange chat button below!
1. Didymos Didysling
Didymos Didyslings can be found in lots of different designs and colours. Did you know we are the UK & Ireland's largest stockist of the Didymos Didysling? We always have over 60 designs in stock!
To really stay as cool as possible, choose lighter-weight slings, or more open weaves and lighter or paler colours. There are lots of neutral-toned ring slings available too. A wonderful option for newborn and toddler-carrying, and particularly great in warm weather!
There's a huge selection which can seem overwhelming, and that's where our expert team of babywearing consultants shine! Ask us for advice, or for help breaking down the selection you can contact us right here.
2. Minimonkey Mini Sling
Now this is where you can really get ready for summer! The Mini Sling is a mesh ring sling-style carrier - it was basically made for the summer!
If you're looking for a carrier that's small, ultra-light and is easy to take with you, look no further than the Minimonkey Mini Sling.
This extremely compact sling is as light as a mobile phone, making it perfect for using either at home or on holiday. It's easy to use, ergonomic, comfortable and adjustable, so you can find the perfect fit for your little one. This is the smallest, lightest baby carrier in the world, so is absolutely perfect for using during those special family adventures at the beach or the pool during the summer!
You can of course use it at home too - it's great even to use in the shower.
The mesh fabric means that the sling itself is light and airy - perfect for babywearing in warm weather.
Plus, it folds up into a little pouch, so it's great for taking with you on the go - perfect for those 'I wish I'd brought a baby carrier with me' moments!
3. Little Frog Ring Sling
We are also the UK & Ireland's largest stockist of Little Frog ring slings & woven wraps. We always lots of designs in stock and plenty to choose from.
We love Little Frog ring slings, and have done so since we first introduced them to the UK market over a decade ago. One of the most pocket-friendly options available and, honestly, you really wouldn't know it - they are absolutely, 100%, blooming awesome! Excellent designs, and superb quality; they are one of the most popular slings in the UK and Ireland today.
There's a fantastic choice too - stripes and jacquards are the most popular. The striped designs are the thinnest and lightest options and perfect from newborn to toddler for babywearing in summer.
The jacquards are perfect for babies all the way to preschool (think quick ups and downs).
Each is made from woven wrap fabric and  is dyed and woven in the EU to OEKO-TEX standard, so you know you're getting a sling that contains no harmful nasties and is safe for both you and your baby.
Shop Little Frog Ring Sling - From £50
Phew! Thanks for bearing with me and making it down here :) I hope you found this article helpful. Please get in touch or email me - beth@lovetobenatural.co.uk - if you'd like any further info on babywearing in summer and when it's warm, babywearing in general, or advice on any products at all.
Beth Beaney is the Founder of and Executive Babywearing Consultant at LTBN. She's been a qualified babywearing consultant for 12 years, and has helped hundreds of families of all needs carry their babies safely and comfortably. Find her on Twitter @lovetobenatural_LTBN
Our Picks
LightweightRing Slings
MeshRing Slings
PhysiocarrierFor All Year Round
SummerBuckles